There are no scheduled events. Keep an eye on our Twitter for updates! You can also view our past events below to get a feel for the events we run during the academic year.
---
"Deep Learning for Compilers" presented by Hugh Leather
April 14, 2021 | 6:00 pm to 8:00 pm
Learn more: https://www.eventbrite.ie/e/148361197335/


Hugh will discuss recent advances in using deep learning to solve compiler issues: learning heuristics and testing compiler correctness.
About this Event
Abstract:
Writing optimising compilers is difficult. The range of programs that may be presented to the compiler is huge and the system on which they run are complex, heterogeneous, non-deterministic, and constantly changing. Machine learning has been shown to make writing compiler heuristics easier, but many issues remain.
Bio:
Hugh was a reader (associate professor) at the University of Edinburgh and is now working with Facebook as an Artificial Intelligence Researcher. His research involves all elements of compilers and operating systems, usually targeting performance and energy optimisation, often with a focus on using machine learning for those tasks. After his PhD, also at Edinburgh, he was a Fellow of the Royal Society of Engineering. Before returning to academia, he was an engineer at Microsoft and architect and team leader at Trilogy, delivering multi-million dollar projects to Fortune 500 companies.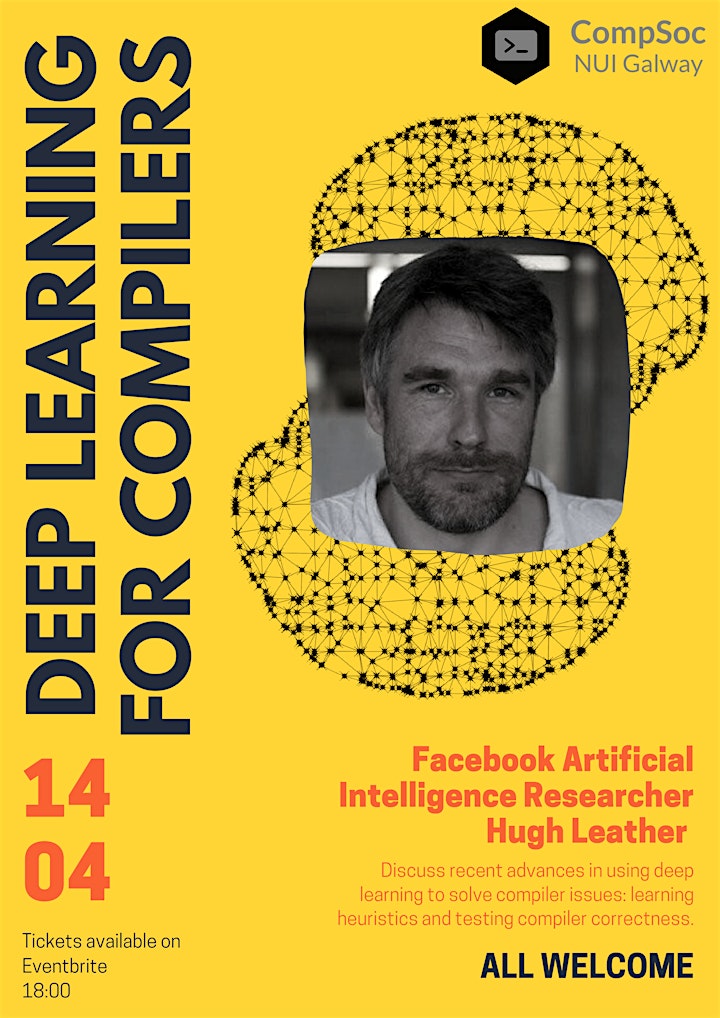 Intersoc Quiz
April 28, 2021 | 7:30 pm to 11:00 pm
Come join us as we host an end of year quiz!
In collaboration with MathSoc, VGSoc, AstroSoc, FanSci and BookSoc.
Test your wits against friends or work together in a team.
One4All vouchers to be won!
If NUI Galway's instagram page brought you here- hello :)

AGM
May 5, 2021 | 7:00 pm to 8:00 pm
We will be holding our AGM, so if you can envisage yourself joining the committee or just want to come and see what we're all about, feel free to drop by.
Positions available:
Auditor

Vice Auditor

Secretary

Treasurer

Chief System Administrator
System Administrator (2-3 positions, 1 is Helpdesk)
Webmaster
Public Relations Officer
Safety Officer
OCMs
Twitch Event: Keyboard Sports
May 5, 2021 | 8:00 pm to 9:00 pm
---
Who we are
CompSoc is NUI Galway's Computer and Networking Society. We host events for everything computing related from how to setup your own blog to System Administration and Programming Tutorials. We also host a number of services on our Society run servers for our members. CompSoc is the oldest computer-related society in Ireland, while many Alumni believe it was much earlier, was formally established in 1977 during the days that the University was known as UCG.
Our mission
CompSoc's main goal is to try and foster a love and passion for all things technology related in NUI Galway. We host a wide variety of events to work towards this goal, including workshops about Linux, hardware and programming. As outlined under our Constitution, our aims is to "promote and increase awareness of electronic communication and related computer systems, a forum to discuss and gain experience in computer networking and systems and to help educate people in the usage of Internet utilities and resources".
Our constitution
You can find our constitution here, as ratified by the USCG ("University Societies Coordination Group") on 30th November, 2015.
---
1,129
members and growing each year
15
committee members in 2020/21
5
GB free server space per member
CompSoc Account
We offer all CompSoc members free access to an account on our servers. This gives you access to:
All accounts come provisioned with 5GB server space by default.
You will have SSH access to your account, with support for tunnelling if needed.
CompSoc members will receive their own @compsoc.ie email account.
If you are a CompSoc member* and would like an account, you can simply go
get an account
or alternatively, can email us at
accounts@compsoc.ie
with the following information:
Name
NUI Galway Email Address
NUI Galway Student ID
Preferred username
*To become a CompSoc member, you can
login to YourSpace and join
or include a membership request in your email.
Social Media
You can get in touch with us by email, social media or by attending one of our events (everyone is welcome!).
Location
CompSoc, c/o Societies Office, Áras na Mac Léinn, NUI Galway, University Road, Galway, Ireland
Email
compsoc@socs.nuigalway.ie
Tweet
Facebook